Popular Posts
I am partnering with one of my favorite shoe brands Born to giveaway one free pair of shoes of your choice!

Destination: Great Sand Dunes National Park
About: Located in the San Luis Valley against the San Di Cristo Mountains, the Great Sand Dunes began forming 44,000 years ago. The Park is home to the largest sand dunes in North America.
Route: i-25 South then cut over after pueblo or the more scenic route of 285 then stay south after Salida
Distance: 240 Miles
Time: 4 hours
Trip Length: Overnight
Season: Year-round – Best Fall & Spring
Sleeping: Camping or AirBnb
DOGS: Dogs are allowed in this national park only on the front dunes and not in the back. This trip was a few years ago and we did not know the rules – so keep your dog on a leash! And be very mindful of the weather it can get extremely hot in the summer here. Read more about dogs in the park here.
I first visited Great Sand Dunes National Park in 2015 and fell in love with the area. The Sand Dunes are INCREDIBLE! It's mind-boggling when your crest the first range and all you see is sand dunes. The juxtaposition of the dunes against the valley and snow cap mountains is simply stunning. This has been one of my favorite Colorado trips and it's hard to believe its only 4 hours from my doorstep.

A Little Great Sand Dunes Geology
When the San Juan Mountains to the west and the San De Cristo mountains to the east formed they left in between the San Luis Valley. After Lake Alamosa receded and evaporated from the valley floor, prevailing winds picked up sediment and sand from the valley and deposited them at the foot of the San Di Cristo, creating the sand dunes. The two creeks that flow around the sand dunes carry that sand back to the valley only to be picked up and deposited back on the dune field.  Read the full geology and history of the area on NPS.
Where to Stay
Camping – Each time I have visited I have camped at Zapata Falls, located 7 miles south of the park. This developed campground is nestled on the side of the San Di Cristo providing absolutely spectacular sunsets. We have never had a problem finding a spot in Spring but you might want to check reservations.
Check out the NPS site for other camping recommendations.
Airbnb – There are some pretty funky Airbnbs in the area which is going to be your best bet for finding somewhere to sleep indoors. Most are located near the northern part of the park near in Crestone which is actually pretty far from the park entrance.
Hotels – There are two hotels very close to the park Great Sand Dunes Lodge and Great Sand Dunes Oasis Lodge. The Oasis actually has a general store and restaurant, the only one nearby for miles. For ritzier accommodations but a little further away check out Zapata Ranch.
Where to Eat
Cook! The Oasis lodge is the only restaurant within 25 miles. Your best bet is to bring your own food and cook. Alamosa is solid a 40 min drive from the park and food options are pretty slim.
So if your plan on cooking, stop well before you reach the dunes as again there are only a few small convenience stores in the area and the closest full grocery store is in Alamosa.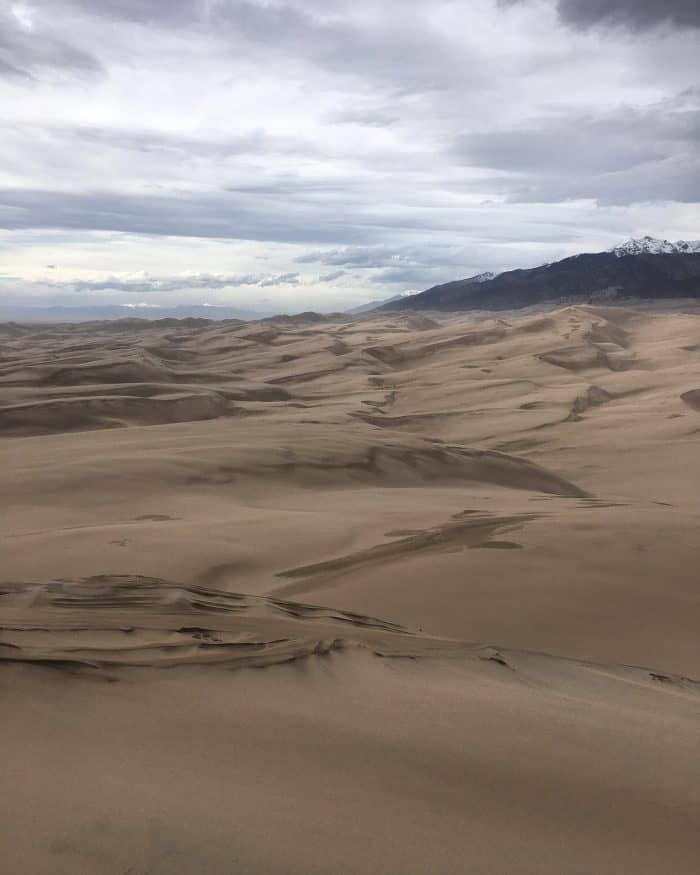 Weather
I highly suggest going in the Spring or Fall when it's not terribly warm and the sand is still comfortable to walk on barefoot. The area is naturally windy but be mindfull of this when checking the weather. Its much harderd to crest the dunes with the wind throwing sand at you. With the right clothing it can be doable too!
What to Wear to Great Sand Dunes
Pants/Spandex – If the wind blows your going to want your legs covered
Layers – It can get chilly so I suggest a puffer and windbreaker
Sandals – I have chosen to walk barefoot rather than lug around in shoes. We did have leftover snow in the sand so socks were also great to walk around in
Handkerchief or Buff – The first time around we didn't bring these and were a live saver the second trip when it was super windy
Sunglasses/Ski Goggles
Hat/Beanie
Bag + Water – There is no water so bring enough for you to drink and then some
Snacks
You will find sand everywhere after your trip, in your ears, armpits, and underpants. Areas that were totally covered will have sand, so be sure to bring another pair of underpants.


What to Do
Don't just stick to the front side. Crest the first row of dunes to really see everything in the park. The dunes can be deceiving, you are hiking fairly vertical so I have found that the easiest way up is to go far right and around the dunes. Once you are on the other side you can work your way back atop to the highest dune.
Sandboarding – You can rent sandboards nearby but honestly, I wouldn't bother if you wanna board just ask to borrow one, you will probably want to do it once then be happy you don't have to carry it around the rest of the day.
For more great tips check out this post from Peace Joy Austin!
Popular Posts
I am partnering with one of my favorite shoe brands Born to giveaway one free pair of shoes of your choice!
Over a week of holiday giveaways to thank you for all your support! Including giveaways from Crate & Barrel, Born Shoes, Equilibria CBD and more!
Beaver Creek ski resort is just past Vail on I-70 west. While this is a very family friendly ski resort, it has some great expert terrain and some very long runs that I really love. Beaver Creek is the furthestRead More
If you are planning on skiing more than two days in or outside Colorado, your cheapest option for lift tickets is to purchase them in advance!
The Lo & Sons Catalina Deluxe is the ultimate weekender bag. Since Blue Mountain Belle is all about weekend adventures I am excited to giveaway this bag to one lucky follower!
While I have only done a few hikes around Telluride Bear Creek Trail is pretty perfect. The trailhead starts right in town, which makes for an easy morning hike before heading to lunch or brunch. The trail is 4.5 milesRead More
(Visited 3 times, 1 visits today)